Library & Study Club
May 8, 2018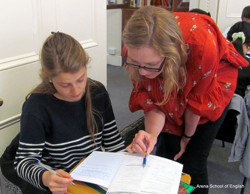 Teacher supervised studying!
From 2.00pm until 3.30pm
At Arena School of English: Rooms E & F
FREE EVENT
The Library & Study Club is from 14.00-15.30: Teachers will help you with your homework, exam preparation and provide extra study activities! This is free for all enrolled full time Arena students!
Rent books & DVD's to help you with your English! You can borrow two items with a deposit of €10.
Please sign up in advance on the notice board in the school.