Discover Dublin
August 7, 2018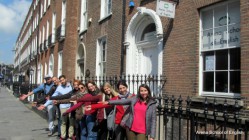 Let us show you the city!
From 2.15pm
FREE EVENT
Join us this afternoon for 'Discover Dublin' with Stephen where we will explore the city - the streets, the parks, the sights, the pubs..follow by a nice cold pint of Guinness (the black stuff).
Please sign your name on the list in the school.