Discover Dublin
April 6, 2018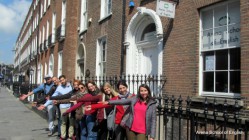 Let us show you the city!
From 2.30pm
FREE EVENT
Join us this Friday afternoon for 'Discover Dublin' with Stephen where we will explore the city - the streets, the parks, the sights, the pubs..follow by a nice cold pint of Guinness (the black stuff).
Please sign your name on the list in the school reception.